That Time My Dad And I Drove From
NJ

To

CA

And Back
Summer 2002 was a special time. I was 13 years old, Nelly's "Hot In Here" was the #1 song on the radio, and my dad and I were going to drive across the US in our '94 Volvo 850 wagon. And back.
My father, being a freelance writer, and a big part of why you read so many of my words here, kept a journal and mileage log throughout the trip. Since he's a better story teller than I; below you'll find excerpts from his fantastic website of what he dubbed "The Big Summer Trip 2002".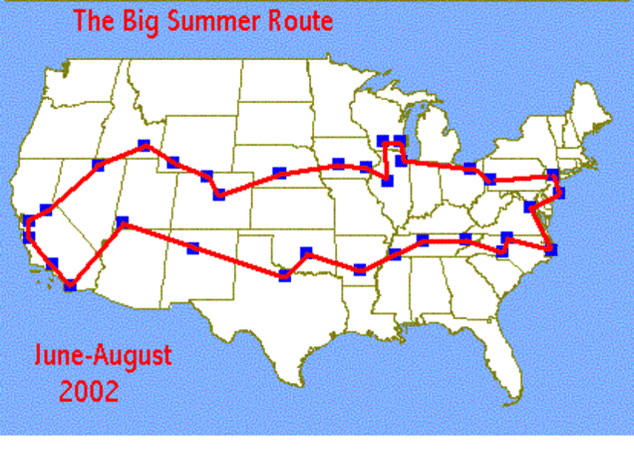 Across America And Back
In late 2001, 13-year-old Jonny said, "Hey, Dad, let's drive across the country this summer. Wouldn't that be cool?"
"Yeah, it'd be cool," Tim said, thinking that would be the end of the discussion. But it wasn't. Jonny kept coming back to it. They could spend the whole summer together. They could visit people. They could see the sights across America. Maybe they could write a book…
Pretty soon Tim was thinking, "Why not?" After all, he's one of the few guys — working for himself, by himself — who actually can take off a whole summer. And besides, it was his teenaged son's idea. That was what was really cool.
So now it's a plan. Tim and Jonny have spent much of the winter and spring plotting, refining the route, warning friends and relatives and near-strangers that they'll be dropping in looking for food and shelter (and maybe laundry once in a while). They've been working on their lists of what they'll need and where they'll go and what they'll do when they get there. Many cities — and people they wanted to visit — have been scratched because of time constraints. But it's still an ambitious undertaking: eight-plus weeks, and 8,000-plus miles.
Friday, June 28
We rolled out of Ridgewood, NJ at 8:28 a.m., and Jonny gave me a high five. My wife Nancy and Ben Wisch, Cameron's dad, (Jonny's friend Cameron is traveling with us through Peoria; the first 11 days) were there to send us off amid hugs and handshakes, but we knew it was a true moment in family history when Jonny's sister Lizzie got out of bed to say goodbye.
We stopped several times, and took a wander off Interstate 80 into Amish country. We had lunch in a tiny place called Rebersburg, Pa., in the combnation hardware store-grocery-deli-bait shop where the woman behind the counter made us sandwiches and let us eat them outside at the curb.
Odometer: 447 miles today.
The Wholesale Fireworks warehouse left the boys literally trembling. We loaded up the car to the point that it is now a rolling arsenal. If Volvo had equipped its vehicles like this in World War II, we'd all be speaking Swedish now.
Sunday, June 30
We spent much of Sunday evening in Chicago traffic, but after being revived by the Mars Cheese Castle (ham & cheese, brat, hot dog), we surprised long-time friends Nancy and David by arriving at their place in Milwaukee just as they were returning from a weekend with the kids at their lake house.
They decided to let us stay the night, so we did. Nancy and I sat up on the front porch for a while, sans cigars, after David, a known co-conspirator in Cuban trade who is ordinarily eager to help destroy evidence by burning it up, apparently fell asleep putting Morgan and Evan to bed. Such is the exhausting life of a lakemeister. Cameron and Jonny sacked out in the basement in front of a big TV, begging to be allowed to sleep in at least a little. No 9:30 departures tomorrow, I promised.
Odometer: 502 miles today, 3-day total 1,137 miles.
Wednesday, July 3
Heading south out of Madison, we stopped at a place outside Beloit, Wis., that promised "Cheese — Fireworks — Gifts" and somehow came away with more explosives. The lady at the counter talked me into the $40 special Shogun package, then had me show her my New Jersey driver's license and fill out the various forms. "Sign here," she said. "This says you know the laws of your state and will abide by them." Then she laughed real loud. Jonny climbed into the backseat with Cameron, and for the next half hour they counted the fireworks — 418 rockets and other aerials, so far, not counting the smoke bombs, firecrackers, pinwheels, sparklers, cherry bombs and other groundworks — and talked about fuses linking them up for multiple launches.
We detoured a few miles to have lunch at Top Dogs, a roadside stand inPaw Paw, Ill., pop. 850. We had shakes, a cheeseburger, a hot dog and a chili dog. Nothing tasted anything like the stuff you get from McDonalds, Wendys or Burger King. Over lunch we debated possible nicknames for the Paw Paw High School sports teams. Feel free to send us a guess, or post it on the comments section. We stopped at a filling station and asked somebody on the way out of town, and we'll reveal it here in the journal in a few days.
We got into Peoria on the afternoon of July 3, ending the first part of the trip — five days, five one-night stops. We're here for five days, then Jonny and I head west again. Cameron goes home, and we'll miss him.
Odometer: 215 miles today; 5-day total 1,459 miles.
This is the view from the porch where Larry and Bernie F. watch the Mississippi, and life, roll by in a very relaxed fashion. The island is Sneaker Island, so named after a fisherman a few years back found a sneaker there — with a foot in it. It was all that was ever found of a woman who had jumped off a bridge in Dubuque.
Monday, July 8
Sadly, we put Cameron and Nancy, who had come out to Peoria for the long weekend, on a bus to Chicago to catch a plane home to New Jersey. Gladly, Jonny and I got back into our familiar positions — "Back in the saddle," he said, riding shotgun again — and pointed the Volvo west. We crossed the Mississippi at Rock Island, and just outsideDavenport, Iowa, we saw an F1 indoor racekart track. An hour later, we got back in the car and it seemed like we were going incredibly slowly.
We meandered up the Iowa Great River Road, checked out Sabula, the only island "city" in Iowa, and landed for the night in Bellevue, Iowa, at the very relaxed riverside chalet where Larry and Bernie F have retired. Larry said he had a Rotary meeting, and asked me to be the guest speaker. Why not. I talked about beer, and then we went and had a couple. And then we went onto his porch, had a couple more, smoked a couple of Cubans, and watched the Mississippi roll by under the moonlight. Back in the saddle indeed.
Odometer: 185 miles today; 1,863 miles for the trip
Friday, July 12
Custer, NE has one of the best running/biking paths in the world running parallel to the main drag, and I took advantage of it early in the morning for about five miles, when the temperature was 70 and the relative humidity 30. What a way to start the day. We scored some model cement for Jonny to use on the model planes he is acquiring and building along the way. Heading south on back roads, I took a break to eat some nuts in the passenger seat while Jonny drove through and around Manville, Wyoming, a couple of miles in all. As we were passing a huge and beautiful lake formed by the dam near Glendo, Wyoming, we saw a sign for a state park and pulled in for a swim at a long sandy beach where people drove right up to the water, backed in to unload their JetSkis and motorboats, and then parked their SUVs right there. One SUV got stuck in water up to the doors, but another pulled it out. We had a pit stop in Chugwater, Wyoming, but Jonny didn't want a T-shirt. We left Ridgewood two weeks ago today.
Odometer: 402 miles today; 3,379 for the trip.
Thursday, July 18
After a morning run along an I-80 service road with vultures swirling overhead, we spent much of the day on two-lane roads; on one desolate stretch, we didn't see another car in our lane for 44 miles. We stopped lots, including at a rock/fossil shop and the original J.C. Penney store in Kemmerer, Wyoming, the Fossil Butte National Monument off Highway 30, the Oregon-California Trail National Visitors Center in Montpelier, Idaho, the man-made geyser in Soda Springs, Idaho, and the hot baths and diving towers (Jonny went off the lowest tower, 16 feet, several times) in Lava Hot Springs before ending up for the night with Bob and Penny Pink in Pocatello. They are scientists and she is owner/brewer of Portneuf beer, so we had lots to talk about.
Odometer: 273 miles today; 4,133 for the trip.
Sunday, July 21
Yesterday was a long day, 499 miles across Nevada, from Jackpot toWells, through Battle Mountain, stopping for a dip at yet another out-of-the-way swimmin' hole, this one at Rye Patch Reservoir, refueling the car and the boy in Fernley, then a swing around the northern end of Lake Tahoe, stopping for a great hike above 8,000 feet with spectacular views of the lake far below, and ending up in a cheap motel literally on an I-80 exit ramp in Reno. We should have found a room earlier…
Today, Sunday, we drove into and out of South Lake Tahoe on scenic Highway 50, with a stop for a rocky climb partway up Mount Ralston. We were happy to be inSacramento with Tony and Marybeth (Kerrigan) Bizjak and their lively kids, playing in their pool, eating their food, drinking their beer and wine, and especially listening to their stories — always the best part of every visit.
Odometer: 670 for two days; 5,100 for the trip.
Friday, July 26
From Salinas, we wound our way down California Highway 1, one of the few long two-lane routes in America that seems to keep getting better. We cruised in and out of quainter-than-heck Carmel, and stopped maybe a dozen times in 50 miles to take photos or just gaze at the spectacular views — probably the most dramatic meeting of land and sea (land and see) in America — before we got to San Simeon and the Hearst Castle, where we spent the afternoon. Hearst kept his mistress there for many years, but disapproved when unmarried guests had liaisons.
He also was afraid people would think poorly of him for having so many European statues of nudes on the grounds, so the Marx brothers tricked him by running around in the middle of the night putting clothes on all the statues. We had dinner at the famously over-the-top Madonna Inn in San Luis Obispo, thanks to a recommendation from Aunt Chloe. And we spent the night in a motel outside Los Alamos. Nothing glowed in the dark, especially us.
Odometer: 244 miles today; 5,647 for the trip.
Tuesday, July 30
Nancy and the kids went with Susan to Balboa Park in San Diego, and I went to the beach in Coronado for a swim and a read. We cleverly timed our departure to hit rush hour in several California cities, and we didn't exactly avoid the heat of the desert (up to 109 degrees, even after the sun went down), but we still made it to Las Vegas in good time. We tried to get rooms at several older casino resorts (Imperial Palace, Riviera, Tropicana, etc.) but they were all full. Las Vegas is jammed with people. Partly because of the economy, partly because of security fears, this is the year of the road trip in America, and it looks like all roads lead to Las Vegas. We finally ended up at the Stardust, too tired to do much of anything.
Odometer: 347 miles today; 6,430 for the trip.
Saturday, August 3
This was a little different day than the one we had planned. The original idea was to drive 161 miles from Brian Head to the North Rim of the Grand Canyon, check into the Grand Canyon Lodge, and meet Nancy's brother Pete, his wife Kim and their two boys after they drove up from Phoenix and set up camp. The plan was to have dinner and tell stories around the campfire. Pete had even bought me some Fat Tire beer to lubricate the storytelling.
But Pete and Kim and the boys had an accident on the way up on Friday afternoon. They were OK except for bumps and bruises, but their camper trailer was totaled and their SUV was not driveable. They were stranded in a motel in Kanab, Utah, and needed to rent a vehicle to get back to Phoenix. So instead of going straight to the Grand Canyon, we stopped in Kanab, Utah (it was on the way). We left our kids at the motel with Kim and their kids, and Nancy and I took Pete to pick up a rental car.
Without going into a lot of detail about imperfect and incomplete information from insurers and car rental agencies, we ended up driving back and forth across southern Utah, 80 miles west from Kanab through Mt. Zion National Park and its majestic canyons, to St. George, where it turned out that there were no rental cars at any agency. So we turned around and drove 160 miles east back through Kanab to Page, Arizona, where Pete finally scored a small SUV — apparently the only vehicle of any kind for rent anywhere in southern Utah that he could return in Phoenix. One of the interesting footnotes of the trips back and forth between Arizona and Utah looking for rental cars was that the normally taciturn Pete, apparently feeling the need to entertain us in compensation for chauffeuring him around, tried to make the time pass more quickly by telling us stories, anecdotes, facts, factoids, and what may even have been a joke or two. And his patter worked; it did make the time go more quickly and pleasantly.
Anyway, we finally made it to the Grand Canyon Lodge, both families. We doubled up in the rooms we had rented, had a nice dinner, sat out on the terrace overlooking the canyon, watching the distant lightning and the shooting stars, and had a great evening.
Odometer: 478 miles today; 7,330 miles for the trip.
Wednesday, August 7
We zoomed across the rest of New Mexico into Texas and the Central Time zone for the first time in weeks. Crossing the Panhandle overland (off the Interstate), we asked Nancy's sister Amy where we should eat. "Any place that looks like a hole in the wall should be good," she advised. We stopped in tiny Hedley, Texas, at the Hedley Cafe, which qualified on both counts. (BLT, grilled cheese, two chicken-fried steak sandwiches, and iced tea served in glasses it took two hands to pick up). We got to Amy's place in Wichita Falls in time to drink beer under the mulberry tree in her front yard with her friends Janelle and John, who had some interesting stories to tell, some of them possibly true.
We left Amy's kids home get the dinner Amy made for us on the table (barbecued beef and Texas caviar — excellent), and went just down the road to Sheppard AFB with Sgt. Amy — former, actually, now that she's retired and has become a civilian instructor doing pretty much the same job, training USAF mechanics to keep fighter planes in the air. You could see the change in Amy from the time she put her beer down in the front yard to when she swaggered into the F-16 hangar, shoulders swinging as if she were still wearing her uniform and stripes instead of pedal pushers and a summer blouse. The younger instructors, many of whom she trained years before, snapped to when they saw her, and you could see the deference, the respect, and maybe a little fear in their eyes. Amy showed us around the base, and she and Jonny and Lizzie climbed and clambered about a variety of multimillion-dollar weapons of destruction — a C-131, an F-16, an A-10, among others. We will all feel safer when we go to bed tonight.
Odometer: 397 miles today; 8,624 miles for the trip
Saturday, August 10
Passing through the lobby of our Memphis hotel early this morning, I saw a young guy sitting in the lobby, looking apprehensive. He had a couple of big bags, including one with "Pirates" on the side. It wasn't til a few minutes later, while jogging along the banks of the Mississippi, that I thought about it and decided he was probably a member of the Nashville Sounds, Pittsburgh's Class AAA affiliate. The team was staying in our hotel after a late doubleheader against the Memphis Redbirds; the best reason one of the players would be sitting in the lobby at that hour would be that he was being sent to another team in the Pirates organization. Maybe he was being called up to the majors. We have initiated lots of conversations with lots of strangers during this trip, and I should have talked to this guy to get his story. After my run, I looked for him in the lobby, but he was gone. And we didn't see any other Sounds players or coaches before we checked out. Nuts.
Meanwhile, Elvis has left the trip, and we have left Memphis. After pausing outside Bucksnort, Tennessee, to switch drivers and let Lizzie rack up 60 miles and nearly and hour of heavy 70mph driving on Interstate 40, we sailed into Nashville with just enough time to have lunch at the Pancake Pantry, a longtime institution and a mecca for road foodies. We had cornbread pancakes, peach pancakes, sweet potato pancakes and a BLT. Then, sadly, Jonny and I put Nancy and Lizzie on a plane for home. They weren't with us long enough. But it took about 3.5 miles for Jonny and men to fall back into our established patterns of the road trip.
In short order we got the Volvo's oil changed for the third time on the trip, toured the Hermitage and the Andrew Jackson museum, and put a lot of miles behind us. We were just starting to look for a place to stay when we drove past a dragster raceway. We took the next exit, forCrossville, Tennessee, and drove in the general direction of the dragway across country roads til we found it. We joined an extraordinary array of juiced-up cars, ranging from flame-belching rail dragsters with parachutes to family station wagons. (No, I wasn't tempted.
Though there was a pregnant woman driving an old Buick sedan at speeds up to 62 mph for the quarter mile, compared with up to 165 mph for some of the dragsters.) We spent a couple of hours with our fingers in our ears (veteran fans brought their own earplugs) and breathing a mix of gasoline fumes, nitrogen-fuel exhaust and the black smoke from squealing tires laying rubber. The announcer kept saying, "Ain't that a purty car?" Afterward, it took me an hour to regain my hearing and recover my normal heart rate. Jonny, the gearhead, loved it so much and was so grateful to me that when we finally found a motel he got out his clarinet and practiced with only a few complaints.
Odometer: 357 miles today; 9,539 for the trip.
Thursday, August 15
We turned north with a vengeance for the first time on the entire trip, rounding into the home stretch. Up into Virginia, we stopped at Fort Eustis, and checked out the new living history museum at Endview Plantation near Newport News. Even with another stop inWilliamsburg for go-karting, we somehow got to Falls Church an hour or so before Cheryl Arvidson, my first and still best boss ever, got home from work, so we went bowling. (Regular bowling, that is; the duckpin alley wasn't open yet.) We had a much-needed relaxing evening with Cheryl and her cats — relaxing for us, anyway, if not the cats.
Odometer: 311 miles today; 10,653 for the trip.
Saturday, August 17
Heading north on two-lane roads, we went through Aberdeen, Maryland, and found the Ripken Museum. The staff was hanging out in front — nobody had a key — so I went down the block and got a haircut. The barber bragged about how he used to cut Cal Jr.'s hair when he was in middle school, and cut Cal Sr.'s hair up until he died. Some of the hair he cut from Cal. Sr.'s head was used on the life-sized wax figure of Cal Sr. in the museum.
He even stopped in the middle of the haircut — this with a room full of guys waiting, none of whom seemed to mind — to dig out some old Ripken family photos for me to examine. After my haircut, Jonny and I went back to the museum, and the staff was still waiting for someone to bring them a key. We suggested they try the barber shop and then pushed off. We'll have to save waxy Cal Sr.'s shorn locks for next time.
We made our way slowly through the Pine Barrens onto Long Beach Island, and met Nancy and Lizzie and Aunt Judy at the house we have rented for the week inBarnegat Light. We swam, walked on the beach, drank champagne and had not one but three bithday pies for me.Odometer: 148 miles today; 10,906 for the trip.
Saturday, August 24
It's over. We did it. We made the drive up the Garden State Parkway from Long Beach Island – it was the first time in two months that we'd left a town in the morning without consulting at least one map – under dreary, drizzly skies. Odd: after 58 days on the road, this was the first dull, cloudy day. (Coming out of Des Moines we had spectacular early-morning thunderstorms, but then the day turned beautiful. We couldn't think of another overcast or rainy day for the whole trip.)We talked about the trip most of the way back to Ridgewood. We turned in the driveway at 1:53 p.m., and shook hands and then hugged before we got out of the car. We owe a huge thanks to all of the people who hosted us along the way, and to those of you who emailed us, called us, and posted notes under the Your Comments section here. (It's not too late to post a comment, by the way. Feel free.) We also owe a huge debt to Nancy and Lizzie for making it possible for us to take the trip in the first place. Nancy sent a man and a boy out onto the road, and I brought her back…two boys.Finally, I have to thank Jonny for coming up with the idea for the trip, for prodding me to commit to it, and mostly for being such a great traveling partner.
Odometer: 120 miles today; 11,070 miles, final total for the trip
It was a really incredible trip, that I'll remember for the rest of my life. Hopefully one day I'll be able to do a similar trip with a son of my own.
Happy Father's day everyone, go hang out with your dad.
Keep up with Tim Harper on Twitter @HarperTim
@jbh1126