The Sleeper Audi
S4

I've Known All Along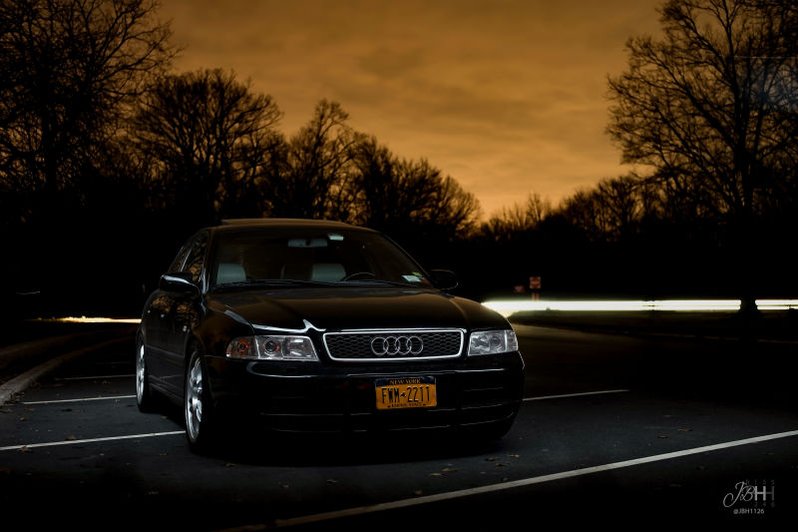 The other night I did something I do a lot. I met up with a guy I've only met briefly in the past to go out in his car and…wait that could be misleading. Let me start over. The other night I shot some photos of a bonkers '01 S4, and it turns out I first met this car about 4 years ago.
Before I get into that, a quick rundown of this nondescript Audi four-door. The car has been through a progression of upgrades spanning seven years and three different sets of turbos. From stock turbos to stage 3 K04 turbos to even bigger Porsche turbos and upgraded internals, this car has come a long way. But you wouldn't know it from the outside, like the nerdy girl with a wild side—you know the one.
But back to the story at hand. Rewind four years, I was still working atClassic Car Club Manhattan. For how long ago it was, I remember the scene in vidid detail, it was a mild fall evening and my last task for the day was to collect the club's black Audi R8 4.2 6-speed from a member in Great Neck, out on Long Island. Train out, meet the member, aim for NYC, pretty straightforward. I merge onto the highway and settle in for the short ride back to the city. Traffic was light, I was in the middle lane.
Keeping up with the flow of cars, I note a rapidly approaching set of headlights. Instinctively, I downshift with a CLACK from the R8's open gated shifter. The headlights slow as they approach until he's right next to me: a badge-less black B5 Audi. Sans badges, I'm assuming this is a juiced up 1.8T, then he pulled.
It rapidly became apparent that this sleeper sedan was quicker than the V8 R8, much quicker. I got a huge kick out of seeing him scream away from me. The encounter ended with smiles and thumbs up on both sides before he tore off into the night. The memory had retreated into the depths of my mind until the other evening, when I realized I was sitting in that exact B5 Audi. The owner remembers that night four years ago as well, "Usually when my car is faster than an exotic, the driver won't even look at me, but you smiled and gave a thumbs up."
Build sheet from the owner:
Engine
Rosten connecting rods
srm k24 billet wheel hybrid turbos @ 17 psi (wastegate pressure)
034 3" Downpipes
Custom 3.5" single exhaust
ER Side mount intercoolers
034 Bipipes
Enlarged turbo inlet pipes
Bosch 044 fuel pump
034 diverter valves
Siemens 660 cc injectors
85mm maf housing
custom tune from ssp tuning for my old k04 setup
samco intake hoses
stern engine mounts
stern snub mount
Transmission
rs4 pressure plate with custom 8 puck ceramic disc
4:1 center diff mod (75% of the power goes to the rear wheels instead of 50%)
jhm short throw shifter
jhm weighted shift knob
jhm solid shift linkage
stern transmission mounts
apikol diff mount
034 billet rear diff carrier
Suspension/Brakes
18Z porsche Cayenne Turbo Calipers with 2 piece 350mm rotors
rear caliper carrier spacer upgrade for larger b7s4 rear rotors
H&R Street Sport Coilovers
Hotchkis Sway bars front and rear
Exterior
Euro Ecode Headlights
European Rear Bumper
Euro Trunk
Carbon fiber hood (Painted)
RS4 Grille
18" Enkei RPF1's
a few more photos HERE