The formula is correct with this bawdy German duo. A well balanced chassis, drive to the rear wheels, and most importantly a potent V8 motor up front. Only thing missing was a sinuous stretch of tarmac, which we just so happened to find.
When these cars were new I ate up all the comparison tests. I watched Clarkson, Hammond, and May slide them around Ascari and read all the glorious praise for the BMW's handling and the Benz's thunderous V8. Many of you know I have an affinity for BMW in general, and I've driven a great many of them including all different flavors of the E9x generation from convertible DCT to manual sedan and all the coupes in between.
Which is why I was excited to hear that my favorite NYC automotive institution Classic Car Club Manhattan recently added a 2010 Mercedes Benz C63 to their fleet. I've always respected the AMG ethos of adding power and luxury, but the C63 represented a sort of forbidden fruit in my mind. It went a bit beyond the typical "luxobarge" designation that AMGs tend to be awarded, with it's smaller size and favorable comparisons to the M3, I was very keen to try it out.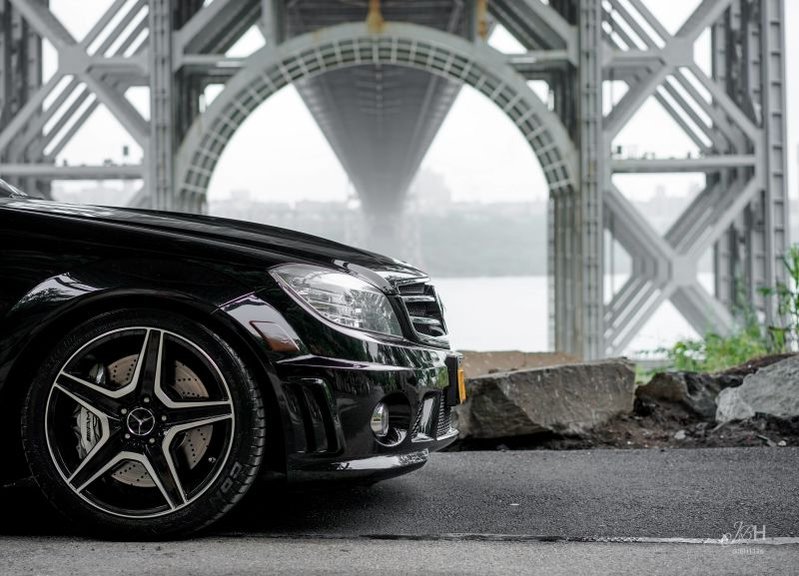 It did not disappoint. In fact, I was very impressed. While I loved the ability to ring out the high-revving V8 in the BMW, there were compromises that were so readily assuaged by the larger displacement V8 in the Benz. To put it bluntly, the E9x M3s have a serious lack of low-end torque. I love low-end torque, and not having it is frustrating around town when you just need that squirt of power to merge or change lanes. The C63 has no problem in this area, the low burble quickly turns into a cracking thunder as you feed the 6.2 liter eight banger more fuel. The torque though! All the torque! Everywhere!
Torque is what makes a car feel fast. Torque is what made the Fiat 500 Abarth tolerable around town, despite not really being that fast. Lack of torque is what makes the E9x feel slower than it really is unless you're really driving 8/10ths, despite having very similar performance to the Benz. Torque is what left me pining for longer drives, using any excuse to drive the C63. Torque is what made me forget all about the E92 M3.